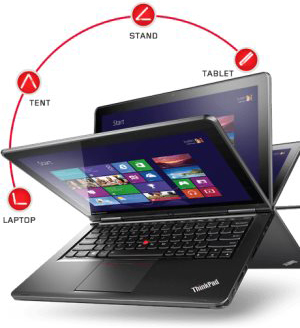 Four Awesome Modes. One Incredible Device.
Easily change between four modes — Laptop, Stand, Tablet, and Tent — while your system automatically switches system settings and locks the keyboard in place. The secret: ThinkPad Yoga's unique design and touchscreen display allows the screen to flip around 360 degrees, which means you can select the mode you use based on what you choose to do.
Ultraportable for Easy Mobility
Starting at a mere 3.5 lbs. and just 0.75" thick, the ThinkPad Yoga is ultraportable — it's perfect for doers on the go.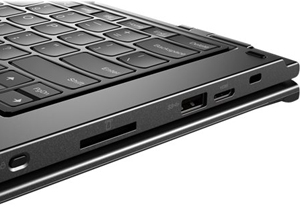 Industry-Leading Multimode Keyboard
Pioneering ultrabooks need pioneering keyboards — and the ThinkPad Yoga's innovative lift-and-lock keyboard fits the bill. When your Yoga switches between modes, the keyboard frame automatically rises and the keys lock, eliminating accidental keystrokes and providing a more comfortable grip.
Digitizer Pen Support
Select models include a digitizer pen to maximize productivity on your ThinkPad Yoga. In all four modes, the digitizer pen provides a natural, fluid, writing experience and lets you take notes, sign documents, annotate PDFs, and more.